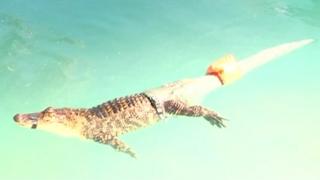 An alligator in the US who lost his tail eight years ago has been fitted with a new artificial one.
He was taken in by a charity because he was finding it hard to stay afloat in deep water.
It is hoped that the creature, nicknamed Mr Stubbs, will soon learn to swim normally with his new metre-long prosthetic.
The 'gator is the first in the world to have had this procedure done - a tale with a happy ending!