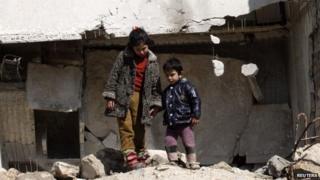 Up to two million children are facing disease and hunger in war-torn Syria, say charity Save the Children.
Today marks two years since battles broke out between government forces in Syria and rebels who want the government out.
It's a conflict that's already thought to have claimed 70,000 lives.
Save the Children say kids are struggling to find enough to eat and are living in barns, parks and caves to escape the fighting.
They're also unable to get education because school buildings are being used to house thousands of homeless adults.