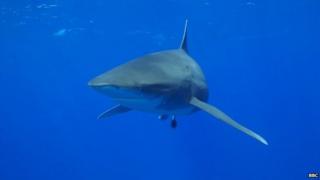 A major international meeting on conservation has agreed new rules to protect endangered shark species.
The Oceanic Whitetip, three varieties of Hammerheads, and the Porbeagle are all thought to be seriously threatened by overfishing.
While the votes at the gathering of 178 nations in Bangkok won't ban the trade in the sharks, they will regulate it.
Both exporting and importing countries will have to issue licences in future.
And if a country catches too many of the sharks, it can be hit with sanctions.
The decisions could still be overturned by a vote on the final day of the meeting later this week.
But campaigners have hailed the planned changes as historic - saying they represent a major breakthrough in marine conservation.