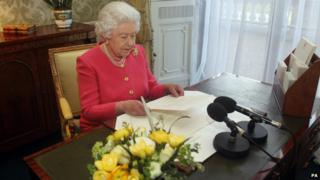 The Queen, who's been recovering from a recent illness, has pulled out of a public event at Westminster Abbey.
Last week she was admitted to hospital for the first time for 10 years, suffering from the symptoms of gastroenteritis.
She had been due to attend a special service today to mark Commonwealth Day.
Officials insist the Queen's health problems are "nothing serious."
The Queen is the head of the Commonwealth - a group of 54 countries around the world.
The Duke of Edinburgh will attend the service as planned, and it's thought the Queen will attend a reception on Monday evening.