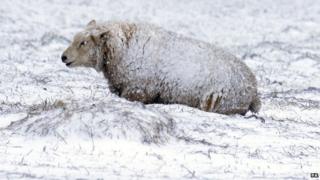 Lots of snow has fallen across Britain and more is expected for the rest of today and tomorrow.
The Met Office is warning there could be up to 5cm of snow in many parts of eastern and southern England.
Up to 10cm is predicted in parts of eastern Scotland and north-east England.
A severe weather warning is in place for the Channel Islands - schools in Jersey closed because of heavy snow on the island.
Send us your wintery pictures to: newsroundpix@bbc.co.uk
If you send us a picture, it may be published on the Newsround website, and some photos may be used in our TV bulletins. We'll use your first name and your home town to show that it's your picture; your personal details won't be used for anything else.
Check out our snow picture gallery!