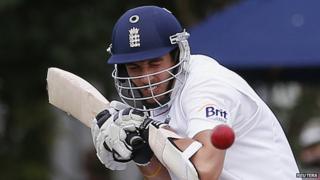 England batted through the final day of their first Test against New Zealand to rescue themselves a draw.
Pace bowler Steven Finn made 56 - his first international half-century - while Nick Compton scored 117 before being dismissed for lbw.
England were 59 runs behind at the start of play, but managed to build up a lead of 128 by the end of play.
The result also means England have won the first Test of a tour only once in the last 14 attempts.
Ex-England batsman Geoffrey Boycott thought there were good and bad points to take from the result.
"The plusses are that the two or three batsmen who haven't played much cricket since Christmas did well. Compton got a hundred and Prior got a few runs, so that's looking bright.
"The only minus is Kevin Pietersen. He looks rusty, but Kevin is Kevin and he will just have to get into the nets," he said.
The second Test begins on Wednesday 13th March.