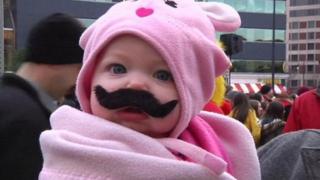 Video: False moustache record breakers
Organisers of an annual laugh festival in America have broken the world record for the most people wearing fake moustaches.
Gilda's LaughFest is reporting that 1,544 people donned various shapes and sizes moustaches.
The festival has a strong history of breaking records.
Last year's event broke the record for the largest number of people wearing fake animal noses. The year before, it was people tossing rubber chickens.
More news stories