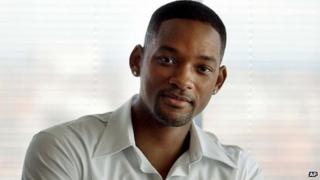 Will Smith surprises UK school kids
Hollywood film star Will Smith delighted hundreds of schoolgirls by making a surprise visit to their school in London.
After appearing on stage he broke in to a rendition of the Fresh Prince of Bel-Air theme song.
He was brought to the school by local MPs Chuka Umunna and Tessa Jowell, who had been giving him a tour of Brixton.
The Men In Black star is in the UK because his 14-year-old son Jayden is supporting Justin Bieber on his tour.
More entertainment stories