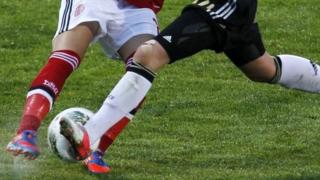 Video: GB sportswomen 'are underpaid'
Four out of five British elite sportswomen feel that they are underpaid, according to a BBC survey.
While some sports have equal pay between men and women, many do not.
England's women's football team earn around £20,000 a year, a figure their male equivalents can earn in a couple of days in the club game.
And it's not just the money - over half of those surveyed said they thought the coaching support offered to men, was better than what was available to them.
One of the big problems still is that hardly any women's sport is shown on TV.
So without an audience watching them, many find it hard to get enough sponsorship money to keep them going full time.
Media coverage is also still a big issue, especially for things like cricket where it's traditionally seen as a men's game.
But it's not all bad news, 80% of the women asked said they see themselves as role models for younger generations.
More sport stories