Justin Bieber had to be treated by doctors after suffering breathing problems during his concert at London's O2 Arena.
The 'Girlfriend' singer took a 20-minute rest before returning to the stage to finish the show.
A spokesperson said: "Justin's heading to the doctor now. He fainted and was given oxygen."
The 19-year-old later tweeted a message to his 35.6 million followers on Twitter, telling them he was OK.
In a video posted by a fan on YouTube, Bieber's manager Scooter Braun was seen on stage during the show telling the audience why the show had come to a halt.
He told fans: "Justin got very light of breath, the whole show he's been complaining. He's backstage with the the doctor."
Bieber did then come back on stage and completed the show, much to the audience's delight.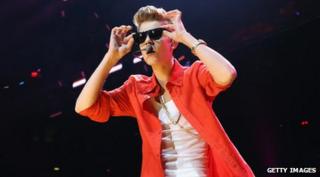 Getty Images
Earlier this week he was criticised for keeping fans waiting after coming on stage late for Monday's performance