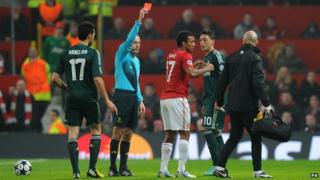 A Manchester United fan was so upset at the red card awarded to Red Devils winger Nani in Tuesday's Champions League clash with Real Madrid, he called 999.
The 18-year-old United supporter was watching at home in Nottinghamshire.
He thought that the decision made by the referee was so bad, he felt it was a crime.
The teenager later apologised for the call and police have said he will not be punished.
Chief Inspector Ted Antill said: "While this recent example may be amusing, it illustrates the sort of insincere calls we have to deal with on a daily basis."
He warned that prank 999 calls were a crime and said people had been prosecuted in the past.
"It's no joke. In this case, the man realised his bad judgement and apologised and we decided not to pursue it further," he added.
Nottinghamshire Police said it received 6,933 recorded hoax calls in 2012.