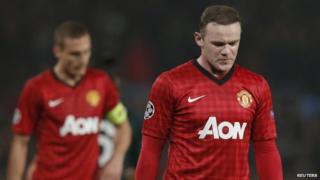 Wayne Rooney is fighting to save his Manchester United career, according to a number of national newspapers.
The striker was left out of the starting line-up against Real Madrid on Tuesday, his club's biggest game of the season.
The decision to bench the England star has alerted some of Europe's top clubs to his availability.
Manchester City came close to signing the forward in October 2010 and could come in for him again in the summer.
But despite City's riches, they are reportedly not prepared to match Rooney's salary which, with add-ons, is believed to be around £300,000 a week.
French side Paris St Germain, the team David Beckham plays for, may be the most likely to make a bid in the summer.
The relationship between Sir Alex Ferguson and Rooney has become more and more strained this year, with Ferguson criticising some of his performances.
Rooney has struggled to influence the big games, but despite him shining against Norwich in his last start, Ferguson's mind may already be made up.