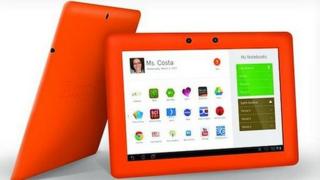 A new tablet for schools, which comes loaded with learning apps, has been revealed in the United States.
The Amplify tablet will run the Android operating system and will cost about £200. It'll only be available in the US.
The device will also let teachers see if kids are working or playing games.
Tablets in schools
One school in the UK has already decided to give all pupils and teachers a tablet from a different company.
The Essa Academy in Bolton says the change reduced the school's photocopying bill by £65,000.
Prof Stephen Heppell, a digital education expert, doesn't think schools need to buy every pupil a tablet.
He said: "If you have a child with a cutting-edge tablet, why say, 'You can't bring that, you have to use this under-powered device we provide'?"
But he agreed that tablets were a good learning tool as they let users create content and not just read textbooks.
"I've seen really young kids shooting and editing movies in a way that five years ago would have got them a GCSE," he said.