What's life like for Syrians who've fled their homes and are now living in refugee camps?
Leah's been to Zaatari refugee camp on the border of Syria and Jordan to find out. Here's part two of her report from her visit...
"When you speak to children living in the Zaatari camp, they'll tell you they want to be doctors, artists or writers when they grow up. They'll tell you how they love Arabic lessons, or playing games in their playground. Some of the boys have Real Madrid football shirts on - Cristiano Ronaldo is really popular here.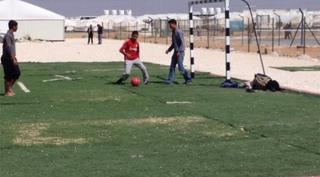 As our team arrived, there was a long queue of boys waiting outside the school gates - sometimes they wait two hours to make sure they have a place. That's how important it is for them to keep life as normal as possible. Without school here, children would be stuck in their tents all day, or walking around the camp with nothing to do.
The school day at the camp works in two parts - the morning session is for girls, and the afternoon is for the boys. As the school bell rings and the gates open again, the boys flood in. It's like any other playground - lots of nose and children excited to see friends.
On the surface, if you forget about the refugee crisis for just a second, these children with their friendship groups, backpacks and enthusiasm are ordinary kids. But many of them - while adjusting to life here - have seen things back in Syria no child or even adult should have to witness.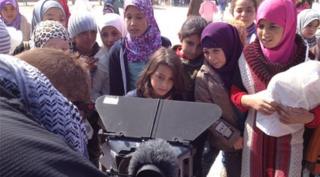 I met one girl called Farah who told me she wants to be a doctor when she grows up. She seemed happy, bright and full of life, which was lovely to see. When I asked her about her life in Syria, her eyes started to well up. She was about to cry so I gave her a big hug, after which she performed a dance with her friends. Farah has been in the camp for two months and misses her Grandad, who is still back in Syria.
Outside the schools here, everywhere you look there are children either playing by the sides of roads, working on stalls, or just wandering around.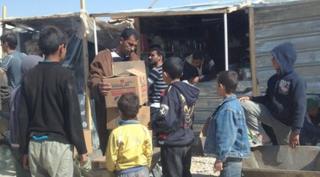 It's been quite an emotional day listening to people's stories. For the first time, the Syrian refugee crisis has been made real for me, instead of something I read in the newspapers.
The hardest thing for me is not being able to reassure the children I've spoken to that everything will get better soon. Charity workers believe the Zaatari camp could be here for years to come. But one thing I've learnt is that the kids of Syria are strong, confident and above all, positive.