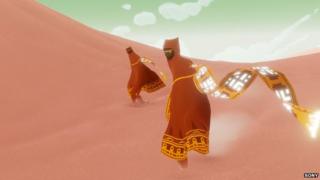 PlayStation game Journey won five awards at the Bafta Games Awards on Tuesday - more than any other game.
It scooped up prizes in the Online Multiplayer, Game Design, Artistic Achievement, Audio Achievement and Original Music categories.
Players in Journey guide a robed character across a huge desert landscape and can see other players who are making the same journey.
Lego Batman 2, which was made by British company TT Games in Knutsford, won best Family game at the video gaming awards.