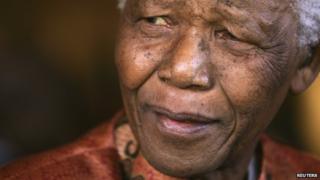 Doctors treating the former South African President Nelson Mandela say his health has worsened and he is now in a critical condition.
It was announced yesterday by the country's current president, Jacob Zuma, after visiting Mr Mandela in hospital.
He asked for prayers for the 94-year-old former leader.
Mr Mandela has been suffering from a recurring lung infection.
Who is Nelson Mandela?
Mr Mandela became the first black president of South Africa in 1994, after winning the country's first democratic elections.
Up until then, South Africa had been ruled by white people for more than 300 years.
Mr Mandela spent a lot of his life in prison after protesting against the way South Africa was run - a system called 'apartheid' which kept white and black people apart.
It meant that black people in South Africa had fewer rights and couldn't vote. White people controlled which jobs black people could have - and even where they lived.
Mr Mandela is now seen across the world as being responsible for helping to end the apartheid.