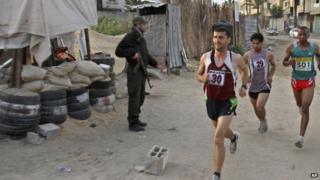 The United Nations has cancelled its marathon in Gaza - after women were banned from taking part in the race.
The event's been held in the Palestinian territory for the past two years.
It was supposed to have had a record number of women entrants this year.
But Hamas, the group which holds power in Gaza, said it could only take place if it respected what it called "local traditions".
Hamas has a strict view on the kinds of things women should be allowed to take part in, especially when they involve mixing with men.
The United Nations says it's "disappointing" that the marathon - which raises money for Palestinian children - won't now be happening.