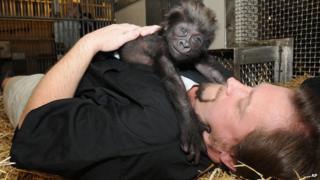 Zookeepers in America are dressing up and imitating a mother gorilla to help a one month old baby gorilla adjust to its new home.
Staff at Cincinnati Zoo are wearing black outfits and grunting affectionately to help baby Gladys, whose mother wasn't caring for her properly, settle in.
"Whatever a gorilla mum would do with her baby is what we have to do with this baby,'' said Ron Evans, one of the zoo's staff members.
It's hoped that after a few months the baby will be able to socialise with and be accepted by the zoo's eight other gorillas.