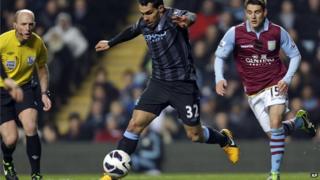 Carlos Tevez grabbed Manchester City a 1-0 victory against Aston Villa, closing their gap on Premier League leaders Manchester United to 12 points.
Villa had looked set to finish the first half on level terms, but a mistake from Ciaran Clark ended with Tevez opening the scoring.
It was the only goal of the match but meant City edge nearer in the table to their Manchester rivals.
But Aston Villa remain in the Premier League relegation zone.
Man City have conceded fewer goals - 24 - than any other Premier League team so far this season.