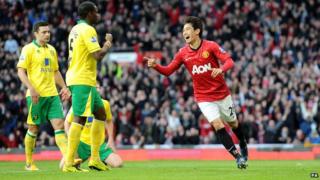 Manchester United are now 15 points clear at the top of the Premier League thanks to a 4-0 win against Norwich City.
A brilliant hat-trick from Shinji Kagawa, topped off with a stunning effort from Wayne Rooney helped to seal the victory.
Kagawa is the first player from Asia to ever score a Premier League hat-trick.
There was a good result too for Liverpool who beat Wigan 4-0, leaving the Latics fourth-bottom of the table.
Roberto Martinez said; "Every game is a very important game and we need to be perfect from now on".