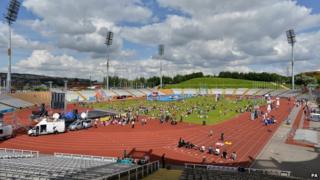 The Sheffield stadium where Olympic heptathlon champion Jessica Ennis trains is to be closed.
The local council in Sheffield voted last night to shut Don Valley Stadium, saying the place costs too much to run.
The Olympic heptathlon champion said the venue held great memories for her because it was where she started her athletic career.
Ennis said closing the stadium was a "huge shame" for Sheffield.
She added "We've achieved so much as a country in the London Olympics, so to lose some great facilities sends out the wrong message, really.
"I understand budgets and costs, but I think we need to find a way to keep it."
Sheffield City Council needs to make £50m of cuts this year.
They said they weren't able to keep spending the £700,000 a year needed to keep the stadium running.