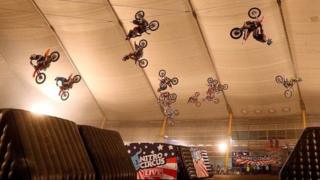 A team of riders have set a new world record for the most motorbikes back-flipping in the air at the same time!
The Nitro Circus team's stunt at London's O2 Arena involved jumping a 23 metre gap and leaping 12 metres in the air.
That's almost the height of 3 double-decker buses.
Officials from Guinness World Records confirmed 16 of the bikers were airborne simultaneously as they performed the back-flips, which meant a new record had been set.
The stunt was to celebrate the release of Nitro Circus: The Movie on DVD in March.