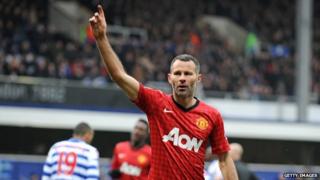 He's the footballer who keeps on playing.
22 years since making his debut for Manchester United, Ryan Giggs has signed on for another year - taking him past his 40th birthday!
On Saturday, if selected for the game against Norwich, he'll be making his 1000th competitive appearance.
In that time, he's scored 168 goals for his club.
And he's won 12 Premier League titles, four FA Cups, three League Cups and two Champions League titles!
His manager, Sir Alex Ferguson, says: "He is a marvellous player and an exceptional human being. Ryan is an example to us all, the way in which he has, and continues to, look after himself."