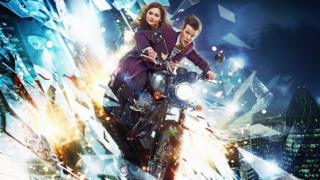 Doctor Who is set to return to our screens in March.
The show's bosses have released a new picture to give fans a sneak peak at what they can expect from the new series, called The Bells of St John.
In the first episode viewers will get an official introduction to Doctor's newest companion, Clara Oswald, played by Jenna-Louise Coleman.
Together they'll have to take on a new villain, the Spoonheads who are found lurking in the Wi-Fi around London.
This year marks the 50th anniversary of Doctor Who, and we are told to expect more special programmes and events coming up.
Tune in to BBC One on 30 March to see the Doctor and Clara in action.