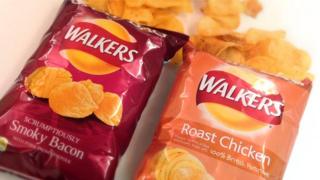 Two flavours of Walkers crisps which used to be suitable for vegetarians will now contain meat.
Previously, Walkers Smoky Bacon and Roast Chicken contained a mixture of seasonings to create their flavour.
But now the crisp giant has changed the recipes and these flavours are no longer vegetarian.
Walkers says it has changed the recipes of all its standard crisps to use more British ingredients.
A spokeswoman for Walkers told Newsround: "There are still nine great tasting flavours that are suitable for vegetarians."
"This isn't a move to limit choice for vegetarians - it's to give our customers the best tasting crisps."