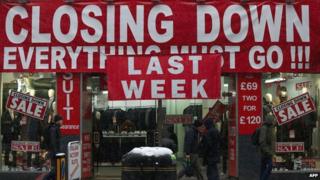 Ten times more shops were forced to close in 2012 than in 2011, according to a new report.
HMV and Comet are just two of the major high street chains which were forced to close stores last year.
The study found that retailers in Britain closed an average of 20 stores a day over the past 12 months.
Sports kit and computer game stores were two of the hardest hit.
Researchers visited 500 town centres around the UK to see how high streets have changed.
Around 1,779 stores were closed last year, compared with just 174 in 2011.
Experts think that the number of closures on the high street is going keep on going up.
But not all businesses have been affected, pound shops and supermarkets are going well.