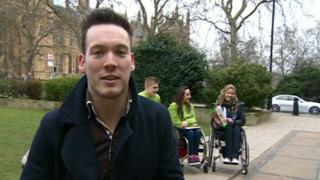 Paralympic ambassadors go to No. 10
Today ambassadors for the charity Whizz-Kidz went to Number 10 Downing Street to ask for the Government to make key changes.
- They want communities to work together so that schools, disability sports clubs, parents and young people can share expertise, facilities and opportunities to play.
- They want young disabled people to play an active role in shaping decisions affecting their lives.
- They want employers to offer young disabled people the opportunity to be role models for others by providing accessible work placements and internships.
- They want transport operators to treat young disabled people like any other passenger.
- They want young disabled people to be more visible in the media, fashion and advertising.