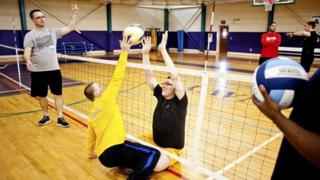 We asked you if you're disabled and if you find it easy to take part in sport at school.
Here's some of the comments you sent in.
Your comments
"I am 7 and I have Cerebral palsy and I use a wheelchair. I find it hard to join in with sports at school but I'd like to do more. The Paralympics inspired me and I started swimming lessons and 2 weeks ago I swam on my own for the first time."
Iona, Berkshire, England
"I have cerebral palsy, it makes my legs get stiff but I still get to play sport at my school and I love dodge ball and basketball. The Paralympics have inspired me to take part in more sport."
Nandi, West Sussex
"I am 10 and I have cerebral palsy. I play wheelchair football and because of that I needed a very expensive chair. At school I find it hard to take part in sport. Having CP has made me more determined."
Claire, Hertfordshire, England
"I had meningitis and the only way for me to live was to amputate my legs and one arm; now I can play netball because I have learned to control the muscles in the top of my arm."
Linsy, London, England
"Hi, my name is Lulu, I'm 13 and I have cerebral palsy. Ever since I was 3, I have been a fan of wrestling and in late 2012, I started searching for schools. I will start training very soon. I hope to become an inspiration to disabled people."
Lulu, London, England
"I was born without an arm. I had to learn to be left-handed and it has had an effect on my sports. I can't play basketball and a range of different sports because of my disability."
Scotty, Manchester, England
"I'm disabled from cerebral palsy, I'm an athlete and I find it hard to control some of my muscles when I exercise but I'm go to a mainstream school, it encourages me to do sports with the other children."
Bryan, Herefordshire, England