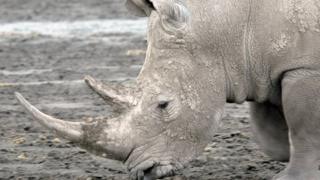 The number of African rhinos are under threat, with one poached every 11 hours.
Nearly 2,400 rhinos have been poached across Africa since 2006 and last year 745 were killed.
The International Union for Conservation Nature is warning that rhinos won't hold out for much longer if it continues.
There are two types of African rhinos. The Black Rhinoceros is the rarer kind with a population of around 5,055.
The White Rhinoceros is much more common with around 20,405 still left in Africa.
The IUCN says the animals are being targeted because of their horns, which are used in traditional medicine all over Asia and as a symbol of high status.