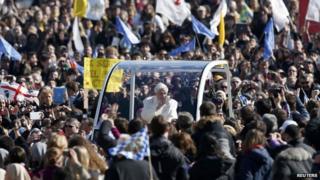 Pope Benedict XVI has appeared in public for the last time.
An estimated 150 thousand people gathered in St Peter's Square in Rome to bid him an emotional farewell.
The Pope acknowledged the job had sometimes been difficult - there were times, he said, "when the seas were rough and the wind blew against us."
He's due to step down as leader of the Catholic Church on Thursday and is the first pope to retire in almost six hundred years.
His successor is expected to be announced before Easter.
He plans to devote the rest of his life to study and prayer.
You can find out more in Newsround's guide to the Pope.