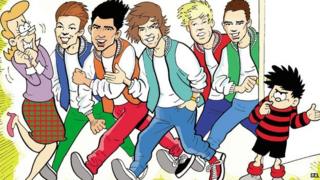 One Direction have been made into cartoons in The Beano comic to raise money for Comic Relief.
In the story, the boyband help Beano characters Dennis The Menace and Minnie The Minx put on a charity show.
Other familiar faces also making an appearance are Jessie J, Olly Murs and former Doctor Who, David Tennant.
The One Direction boys said "We've grown up with the magazine so now to actually appear in it with Dennis and Gnasher themselves is incredible."
The boy band will be in the monthly spin-off magazine BeanoMAX and goes on sale 6 March.