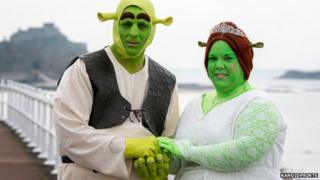 A Jersey couple gave their wedding a fairy tale twist - and dressed up as Shrek and Fiona!
Bride Heidi and groom Paul got the idea while watching Shrek with their son.
They had to get special permission from Jersey's government to dress up for the wedding and their guests came as fairytale characters too!
Paul said: "Shrek represents true love. It doesn't matter who you are or what you look like, if the love is there then that is what it is about."