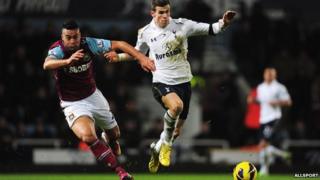 Tottenham Hotspur are up to third in the Premier League after a goal from Gareth Bale.
The Welshman struck in the last minute to earn Tottenham a 3-2 win over London rivals West Ham.
It was Bale's eighth goal in six matches and his 19th of the season.
The win went down well with Spurs manager Andre Villas-Boas who said "He inspires people and he is a direct influence on every single player."