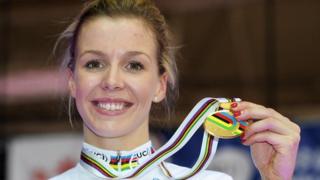 We want your questions to ask cycling's newest star Becky James.
At the World Championships in Belarus, Becky made history by becoming the first British rider to win four medals in a single championships.
On Tuesday we'll be speaking to her and want to ask her some of your questions.
Maybe you want to know how she got into cycling or what her favourite part of cycling is. Maybe you're learning to ride a bike or want to become a cyclist and want some tips.
This chat page is now closed. Thanks for all your questions. Keep tuned into Newsround for Becky's interview with us.