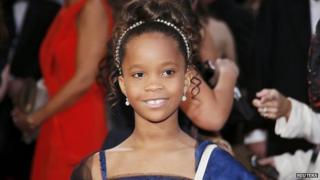 Oscar nominated actress Quvenzhane Wallis is to star in a remake of the film Annie.
The 9-year-old, who became the youngest ever person to be nominated in the Best Actress category, will play the main role of Annie.
The film will be released in 2014 and is being produced by rapper Jay Z, Will Smith and Jada Pinkett Smith.
Annie, which was originally a stage play, is based on the story of an orphan girl trying to find her family.
The film will be based in modern day New York and will include a mixture of the original songs and new ones.