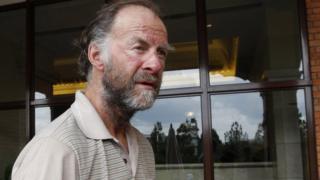 Sir Ranulph Fiennes has pulled out of a challenge to walk across Antarctica because of severe frostbite.
The explorer, who's 68-years-old, was injured whilst he was skiing at a base camp.
He had to use his bare hands to fix a part on his skis in freezing temperatures of -30C.
Sir Ranulph says he's "gutted" that he's had to pull out but his five team-mates will still attempt to carry out the 2,000 mile trek.
His team are now trying to fly him to Cape Town in South Africa where he can fly back to the UK, but blizzards in Antarctica are making it difficult.
The trek is known as The Coldest Journey on Earth and no human being has managed to walk across Antarctica in winter before.
The team will face some of the toughest conditions on earth - in darkness most of the time and temperatures dropping close to -90C.