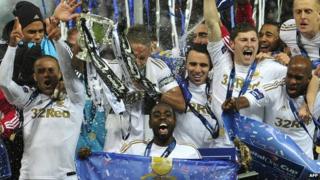 AFP
Swansea City beat Bradford City 5-0 to win the Capital One Cup final at Wembley on Sunday.
It's the first major trophy win in their 101 year history as they ended League Two Bradford City's fairytale cup run.
The Swans completely dominated the game, winning 5-0, with winger Nathan Dyer hitting the back of the net twice.
The win means the Welsh club can now plan for a campaign in next season's Europa League.