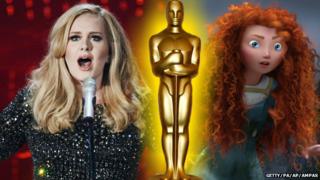 Adele has won an Oscar for best original song with James Bond theme song Skyfall.
It's the biggest award the singer has won and is the the first bond theme to win an Oscar.
Children's film Brave won Best Animation, beating Wreck It Ralph and Frankenweenie.
Best actress went to Jennifer Lawrence for her part in Silver Linings Playbook.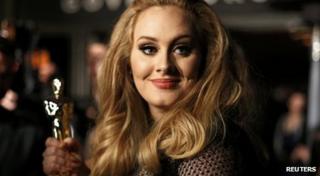 Lincoln star Daniel Day-Lewis made Oscars history by becoming the first person to win the best actor prize three times.
Les Miserable star Anne Hathaway took the Oscar for best supporting actress.
Argo won best film and the truly brilliant Life Of Pi won 4 awards, including Best Director and Best Visual Effects.
If you're wondering who else picked up an award, here's a list of all the winners in full.
BEST FILM - Argo
BEST DIRECTOR - Ang Lee - Life of Pi
BEST ACTOR - Daniel Day-Lewis - Lincoln
BEST ACTRESS - Jennifer Lawrence - Silver Linings Playbook
BEST SUPPORTING ACTOR - Christoph Waltz - Django Unchained
BEST SUPPORTING ACTRESS - Anne Hathaway - Les Miserables
BEST FOREIGN LANGUAGE FILM - Amour
BEST ANIMATED FILM - Brave
BEST ORIGINAL SCREENPLAY - Django Unchained - Quentin Tarantino
BEST ADAPTED SCREENPLAY - Argo - Chris Terrio
BEST CINEMATOGRAPHY - Life of Pi - Claudio Miranda
BEST SOUND MIXING - Les Miserables - Andy Nelson, Mark Paterson and Simon Hayes
BEST SOUND EDITING (Joint winners) - Skyfall - Per Hallberg and Karen Baker Landers and Zero Dark Thirty - Paul NJ Ottosson
BEST ORIGINAL SONG - Skyfall (Skyfall) - Music and Lyric by Adele Adkins and Paul Epworth
BEST ORIGINAL SCORE - Life Of Pi - Mychael Danna
BEST COSTUMES - Anna Karenina - Jacqueline Durran
BEST DOCUMENTARY FILM - Searching For Sugarman
BEST DOCUMENTARY SHORT - Inocente
BEST FILM EDITING - Argo - William Goldenberg
BEST ANIMATED SHORT FILM - Paperman
BEST LIVE ACTION SHORT FILM - Curfew
BEST VISUAL EFFECTS - Life Of Pi - Bill Westenhofer, Guillaume Rocheron, Erik-Jan De Boer and Donald R Elliott
BEST MAKE-UP - Les Miserables - Lisa Westcott and Julie Dartnell
BEST PRODUCTION DESIGN - Lincoln - Rick Carter and Jim Erickson