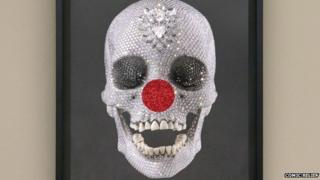 A famous piece of art has been covered in a red nose for Comic Relief.
Damien Hurst famously made the diamond encrusted skull - and now he's made 50 pictures of it with the red nose.
Selling at £2,500 it's hoped they will raise lots of money for the charity.
Damien Hurst is famous for making unusual modern art - the original platinum model of a skull covered in 8,601 jewels is worth about £50 million, and is kept in a high security vault.