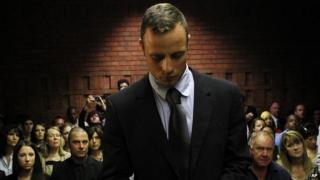 Oscar Pistorius, famously known as 'the blade runner', has been allowed to go home until his trial for murder begins.
Pistorius, a paralympic sprinter who ran at London 2012 on a set of prosthetic legs, is accused of shooting his girlfriend Reeva Steenkamp.
A magistrate in South Africa, who's a bit like a judge, has granted him bail - which means he can go home until the trial starts in June.
Pistorius says he didn't mean to shoot his girlfriend.