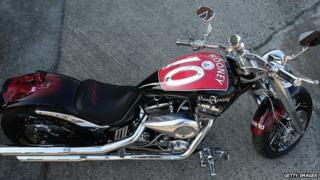 A motorbike designed by Manchester United's Wayne Rooney has been auctioned off for a whopping £43,250!
If you're a Rooney fan then it's your kind of bike - it has a signed number 10 football shirt on the petrol tank and a painting of the star celebrating his goal at the 2011 Premier League final on the back.
To give it some sparkle, there are also 22 diamonds on the bike's shift rod.
Rooney said he was "really excited" to be involved in the one-off design.
The motorbike was sold to raise money for KidsAid, a Danish charity that helps sick children.
It was bought by an anonymous bidder.