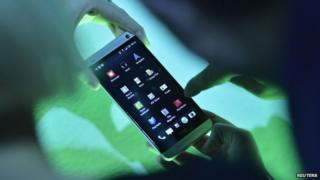 Five companies have won an auction to provide superfast 4G mobile broadband in the UK.
They are Everything Everywhere, Hutchison 3G UK, Niche Spectrum Ventures (a part of BT), Telefonica (O2) and Vodafone.
Chunks of UK airwaves that make 4G possible were sold off to bidders.
The sale raised a total of £2.3 billion - more than a billion pounds less than the government was expecting.
It should be available to customers by spring or early summer.
Superfast 4G is roughly five to 10 times faster than current 3G networks.
4G means being able to easily watch TV and movies on your smartphone or tablets, and making video calls in HD.
Everything Everywhere launched the first UK 4G service in 11 cities in October, but take-up has been slow.