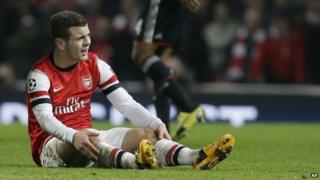 It's not going well for Arsenal - they've lost 3-1 to Bayern Munich in the Champions League final 16, three days after they were knocked out of the FA Cup.
The Gunners were 2-0 down after just 21 minutes into the first leg match, thanks to goals from Toni Kroos and Thomas Muller.
Lukas Podolski pulled one back for Arsenal with a header after the break.
But Bayern's Mario Mandzukic took the final score to 3-1 at the Emirates.
Arsenal now have a lot of work to do in the second leg in Munich on 13 March.