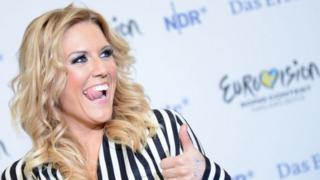 Germany 'copies' Eurovision winner
This year's German Eurovision entry has been accused of copying Sweden's winning song from 2012!
A newspaper in Germany claims Glorious by Cascada sounds very similar to Loreen's Euphoria.
Sound expert Tina John said: "The chorus uses the same accentuation, the ending peaks with the same combinations. The singers even use the same breathing methods."
German broadcaster NDR has launched an investigation to compare the two songs.
The producers of Glorious rubbished the claims and Cascada singer Natalie Horler said: "They are two different songs."
NDR spokesperson Iris Bents said: "Every year there are attempts to create scandals around the Eurovision Song Contest and the participants."
This year's Eurovision Song Contest final takes place in Malmo, Sweden, on 18 May.
Cascada had a UK number one hit in 2009 with Evacuate The Dancefloor.