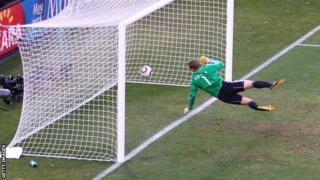 Getty Images
Goal-line technology is to be used at the 2014 World Cup in Brazil.
Football's world governing body, Fifa, has made the decision after successful trials of the technology last year.
It's now invited bids from companies to provide the system.
Incidents like Frank Lampard's wrongly disallowed goal at the last World Cup had led to calls for its introduction.
The technology will first be used at this summer's Confederations Cup.