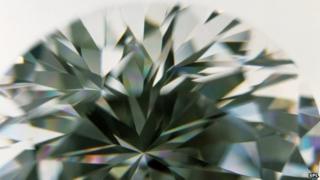 Armed robbers have stolen tens of millions of pounds worth of diamonds at Brussels Airport.
The robbers broke through a fence on Monday evening and stole the gems as they were being loaded from a security van onto a plane bound for Switzerland.
They escaped back through the same hole. Police later found a burned-out vehicle close to the airport.
Caroline De Wolf, from the Antwerp World Diamond Centre, said the haul was estimated to be worth 50m euros (£43m).
"What we are talking about is obviously a gigantic sum," De Wolf told Belgium's VRT broadcaster.
An unnamed spokeswoman at the same Antwerp centre is quoted as describing the robbery "one of the biggest" ever.