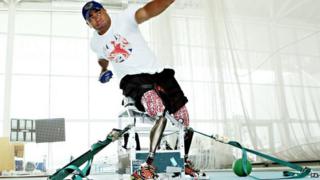 PA
British servicemen and women who've lost their legs in battle will be fitted with the most up-to-date bionic ones, the government has promised.
Prosthetic limbs will be given to troops who have been injured fighting in Afghanistan or Iraq.
The hi-tech legs make it easier to move around and do things like step over obstacles and climb stairs.
It's thought that around 160 members of the armed forces will benefit.
The scheme is being funded by £6.5 million from the government.
Chancellor George Osborne, who's in charge of the country's money, said: "Our troops are heroes who have and continue to give absolutely everything for their country and it is only right that we do everything possible to help them, especially when they suffer injury."