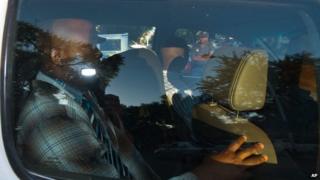 Paralympic champion Oscar Pistorius has made his second appearance in court in South Africa, following the death of his girlfriend.
The athlete is charged with murder - something that he denies.
He's in court applying for bail, which is permission to be released from police custody until his trial begins.
The hearing started on the day of his girlfriend Reeva Steenkamp's funeral and continues on Wednesday.
Pistorius' girlfriend was found dead at his home in South Africa's capital Pretoria on Thursday.
The news has shaken the country - where he's a national hero - and the world.
Newsround guide: What to do if you're upset by the news