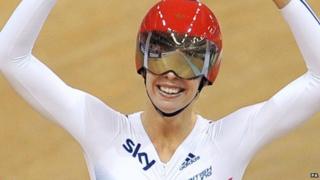 Cyclist Becky James won her second world title in 24 hours on Sunday after she stormed to victory in the keirin.
Becky, from Abergavenny in Wales, became the first British rider to win four medals at a single World Championships.
After winning she said: "I can't believe it. Wow. It's going to take a good week for it to sink in, or two weeks, or a month!"
"I just need someone to pinch me and tell me if it's really happening to me.
"I feel like it's a complete dream apart from the pain in my legs."