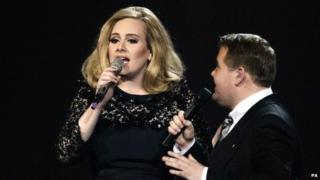 Wednesday's Brits will make up for cutting short Adele's victory speech last year, the awards boss has hinted.
Adele was accepting the 2012 best album prize when she was interrupted by host James Corden because the live show was running over.
Brits chairman David Joseph told the Guardian newspaper: "I very much to this day question what was happening in that control booth.
"I can hint something's going to happen this year to rewrite that wrong."
Adele's James Bond theme Skyfall is nominated for best single and she's also in the running for the new global success award.